TourFactory monthly or annual members receive the most comprehensive and extensive collection of digital marketing tools available on the market today. These tools can be utilized to promote every single one of your listings to ensure that your listings always look incredible online! Not only do you get a PowerHouse Package for every listings, but as a Suite Start or Suite Leader member you receive even more benefits and incredible savings!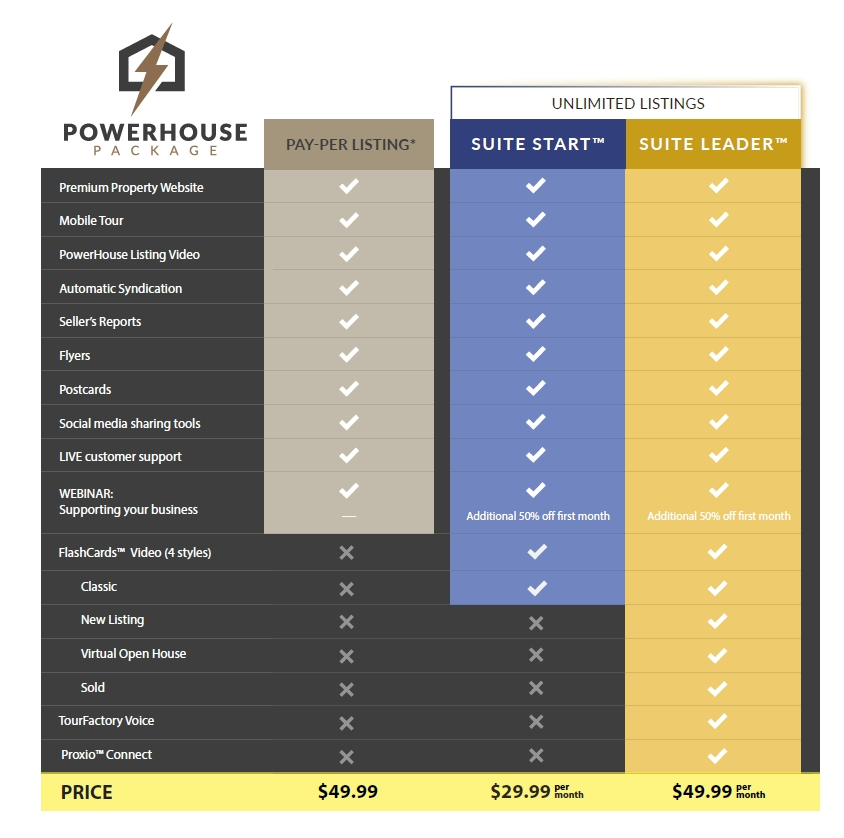 Suite Leader
In addition to the PowerHouse Package, Suite Leader members also receive the following products for every listing:
Classic FlashCards Listing Videos
Just Listed FlashCards Listing Videos
Open House FlashCards Listing Videos
Sold FlashCards Listing Videos
TourFactory Voice Lead Capture Service
International Exposure with Proxio Connect
Suite Start
If you're still getting to know TourFactory, Suite Start gives you the perfect way to try on the benefits of membership. You get all the valuable tools and savings that come with the PowerHouse Package, PLUS a complimentary FlashCards video (Classic style only) with every listing.
Read our Successful Real Estate Marketing – PowerHouse Membership Options blog article!
Frequently Asked Questions
Q. How do I purchase a membership?
A. To purchase either a Suite Start or Suite Leader membership follow the instructions below:
Login to TourFactory.com
Click the My Account tab at the top of the site.
Click the Membership tab on the left hand side of the site.
Click become a member. For detailed instructions on how to purchase a membership click here.
Q. Can I purchase annually?
A. Yes! In fact, if you purchase annually you get one month free! So you actually save more by purchasing on an annual basis. Click here for detailed instructions on how to purchase a monthly or annual membership.
Q. Can I change membership my membership type?
A. You can upgrade or downgrade your monthly membership at any time. Annual memberships cannot be changed until your renewal date. Click here for detailed instructions on how to change your membership type.
Q. What happens if I cancel?
A. Your PowerHouse Packages, including Premium Property Websites, and other benefits will remain active until your next billing date. Once your billing date has passed your PowerHouse Packages, including your Premium Property Websites, will no longer be viewable to the public and you will immediately lose access to your other membership benefits. Your listings will remain in your TourFactory account for future purchase and activation.