Go to the Summary Tab of your property. Need help getting to the Summary tab? Click here for detailed instructions.
Click on your property website link located under the address and price.

For the Elegant theme, click the Facebook button in the bottom left-hand corner.

For the Exclusive theme, scroll down to the "Share" section and click the Facebook button.

For the Flex theme, scroll down to the "Property Details" section and click on the Facebook button.


A new window will open allowing you to add text to the posting and share the property link. Click the "Post to Facebook" button.
Note: If you are not already logged into your Facebook account, you will first be directed to log in.

Your property has now been shared on your Facebook account.
Frequently Asked Questions
Q: Can I share my property website to a Facebook group?
A: When sharing a post on Facebook, there should be a drop-down menu that allows you to choose where to share the post. You can choose to share to your news feed, story, a friend's timeline, a group, or in an event.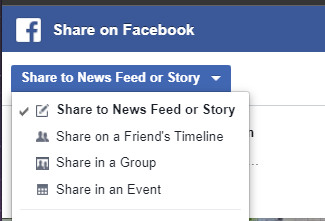 How to Share Your Property on Twitter
Collabra Technology Blog - Success Marketing with the PowerHouse Package.
For additional assistance, contact us at 888-458-3943 coaching@tourfactory.com