The Additional Resources/Information section contains many great tools to get buyers important information about your listing. You can find this section on the Listing Features tab of any listing in your TourFactory account.
To access the Additional Resources/Information Section:
Go to the Summary Tab of your property. Need help getting to the Summary tab? Click here for detailed instructions.
On the left side, click the gray tab labeled "Listing Features".
Scroll to the Additional Resources/Information section located beneath the Details section.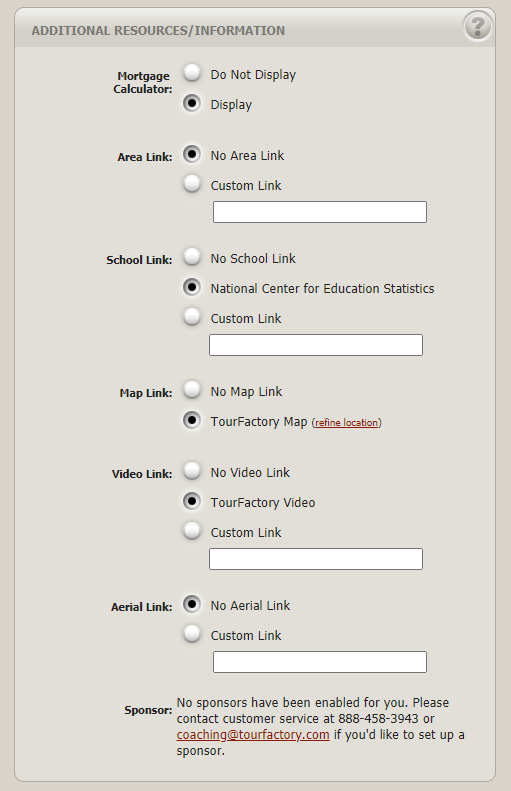 Area Link:

Any website URL can be added to the custom link field. Examples of an area link would be a neighborhood website, HOA website, tourism website, home builder website, etc.

School Link:

The default setting will lead to the National Center for Education Statistics website which displays schools in the vicinity of the home's location.



Map Link:

TourFactory Map is the default selection. This will place the home's location, as determined by the information in the Location section of the Listing Features tab, on a Google map display.



Video Link:

TourFactory Video is the default selection. This means that if we have connected your TourFactory account to your YouTube channel (not currently available to make new connections), the YouTube Listing Video will display on your property site in the Video section.
The custom link field will accept any YouTube or Vimeo URL of your choice to display in the Videos section of your property site.

Aerial Link:

The custom link field will accept any URL from the following approved websites:

Hangar, YouTube, Vimeo, Google, Bing, Threesixty, Asteroom, Kuula*

Ads must be disabled in Kuula for the link to be accepted



Sponsor:

If you have a sponsor set up for your account, they will appear in the sponsor section to select to appear on the property site. Learn more about setting up a sponsor here or contact our customer service team via phone (888-458-3943), email (coaching@tourfactory.com), or support ticket.
Frequently Asked Questions
Q. Can I change or remove the school information that displays?
A. You can choose to remove a school link from your property site by changing the radio button to No School Link or add a URL of your choosing into the Custom Link field.
Q. The map location isn't displaying correctly. Can I manually change the map location?
A. Yes, you can! Click here to learn how to refine your map location.
Q. I'd like my PowerHouse Listing Video to display on my property site. How can I get a YouTube URL for it?
A. Click here to learn how to upload your PowerHouse Listing Video to YouTube.
For additional assistance, contact us online, or call 888-458-3943